Hardwood Sanding And Refinishing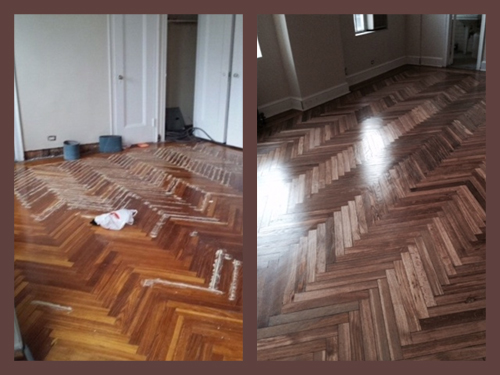 Having your hardwood floors refinished is one of the easiest ways to drastically improve the look of your home. There's no easier way to not only improve the beauty of your home, but also preserve its value. Here are a few of the most common reasons why customers decide to have their hardwood flooring refinished:
Hardwood flooring is completely worn and have deep scratches
Decided to remove carpet or linoleum and want the hardwood floors underneath refinished
Want to change the color of the hardwood flooring
Sanding and refinishing the your hardwood floors means that we sand all of the finish off of the existing floor and remove approximately 1/32″ of wood. Floors are then coated with sealer and three coats of polyurethane. Most 3/4″ hardwood flooring can be sanded up to six times, as long as a professional hardwood flooring and refinishing company sands the floor each time it's needed. Hardwood floors should last 100-150 years, making them the longest lasting value for the home that can be purchased if cared for by a professional team.
The most commonly used finishes are oil-based and water-based polyurethane.
Water Based
Water-based polyurethane is a bit more dull as opposed to oil based, but also has some advantages. One of the advantages of a water-based polyurethane is its fast drying time. Most residential hardwood floors require two to four coats of finish, with a one hour drying time in between coats. Upon completion of the final coat, normal foot traffic can resume within 24 hours. Another advantage of water base finish is its less irritating fumes caused by high VOC levels.
Oil Based
Oil-based polyurethane is scratch and moisture resistant, and works well in commercial or residential hardwood flooring areas with high foot traffic. Two to three coats are usually applied using oil base with a 12 hour drying time in between coats. However, we recommend you wait 24 to 48 hours after the final coat before you move in furniture. This type of urethane tends to develop into an amber like (orange-brownish) color as it ages.
Hardwood Perfect Flooring provides services to the following areas in New York:
Queens
Long Island
Brooklyn
Westchester
Manhattan
Bronx